Acumen Tutoring English, History, and Writing
Offering individualized enrichment and support in

English, History, and Writing
Acumen Tutoring offers assistance and enrichment in all English and history classes from 6th grade through AP.
What Can Acumen Tutoring Help With?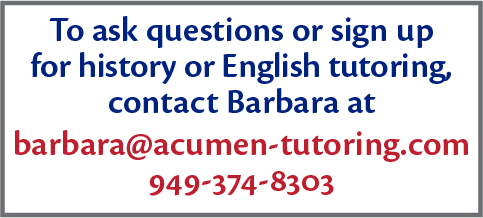 Acumen Tutoring offers help in the following English and history classes:
Middle- & Upper-school English


All courses, 6th Grade English through AP English Lit

Middle- & Upper-school History




All history classes, 7th - 12th grade, including:

Middle school World History
Upper School US History
Middle-school US History
AP US History
Upper School World History
AP World History

Standardized Tests




SAT and ACT test preparation, including:

SAT Reading
ACT Reading
SAT Writing & Language
ACT English
Cost
Acumen Tutoring English and history sessions are charged by the hour as follows:
Four hours in advance: $85.00 per hour
Ten hours in advance: $75.00 per hour
Note that you are billed for four sessions, payable in advance. You may instead pay for 10 sessions in advance for a discount of $10 per hour. We accept checks, cash, Venmo, or PayPal.
About Barbara Deubert
Acumen Tutoring's English and history tutor is Barbara Deubert, a teacher and administrator of long standing with vast experience with all grades, kindergarten through high school.
Click here for a brief biography.
To Sign Up or Ask Questions...
To schedule a session or to ask a question, contact Barbara at